You and I both know that there are a million resources out there on how to create excellent flagship, or anchor content. Some of them are brilliant, some of them not so much. This is something you're going to have to figure out by doing it. Pick and choose the bits you like, the bits you want to try, the things that resonate to get this thing done. But here's the thing - for all that advice and all those resources, you still have to make it YOURS. Your voice, your style, your angle and your take on things - please, please, please start here first.
With more content being produced on a daily basis than we can poke a stick at, tuning into your own voice, values and unique style is fundamental. Sure, you can copy everyone else and you might even get some good traction, but even if you do, how sustainable is it if it's not quite you? And how real are the relationships you're forming from it?
Flagship content is killer when it provides real value to real people and in my opinion, that means it has to be real too. Think about how you want people to feel when they find it, inject it with the things that care about, use the words that you really use and bring them into your fold. When you start with that mindset, you're already well on your way to creating stuff that people will actually genuinely really love.
You're the art, sweetheart
There's no shortage of resources to teach you the tactics. You can learn anything, anyone can. The tools, the tactics, the tricks really are, like never before, available to anyone. And none of it's rocket science, once you get into it, is it?
But the art is the more difficult part, the unique part, the YOU part. Difficult, that is, for everyone but you. To you, it's just, well, you and that's the bit, believe it or not, that people crave. People want to connect with people, so it doesn't matter if it's a cheat sheet on how to use groups in your email marketing, or how to paint your toes without botching it - there will be almost as many resources on that thing as there are people in the world … but only you can do it your way.
Two similar *things*, two totally different *experiences*. That's the magic. That's the you. It's the art of turning a 'thing' into an experience. Be good at what you do - be very good at what you do, then focus on the magic, the way people experience what you do in the way that only you can.
That's how you stand out, that's how you become different and that's how what you do starts to really matter to the people you serve.
Know your audience and solve a real problem

Gah, really? This again? I'm tired of reading that so I'm going to have to come up with a new way of saying it because it does need to be said. It's what's at the heart of anything really good in terms of content, isn't it?
But here's the thing - it takes time. Knowing your audience, truly understanding their problem, the one you want to be known for solving, and creating that killer solution that they love TAKES TIME. It's bit like building a reputation with your content - it's a process that takes time and you can't just skip to the good bits (you can read a whole article on this here: Relax, content marketing is like building a reputation - it takes time).
Content is about building relationships and relationships take time. There are probably plenty of people in your real life that you know very well. You know what motivates them, what they struggle with, what makes them happy and where they're trying to go. But you did not learn all that in your first meeting. No. Most of the time, it took years of experiencing things with them to learn about them
And yep, it's the same with your audience. You have to create experiences with them so you can learn about them and them about you. Now, I'm not saying that you have to wait years before you can understand your audience well enough to make something cool for them - don't do that! Make something today! But what I am saying is that it's an ongoing journey and what you understand and create today is not set in stone and is not the end of the road - it's just a moment in time.
To know your audience, you've got to get amongst them

Because your audience is made up of real, actual people and so to know them, you have to get amongst them.

Getting to know people doesn't happen on paper, or in check-boxes, or 'know your audience' infographics - it happens with conversations, by being real, by caring and sharing (sorry, but it's true), and taking the time to listen.

It's not something that you get to the end of either, that you get to be 'done' with, because it's ongoing, as are the evolution of all relationships.

Meeting people where they are and building communities around common interests and values is nothing new, and yet we can all fall into the trap of trying to 'create opportunities' and make sales before we even really know who they are.

We need to get amongst our audiences, get to know them as people. Seek to understand them first and figure out how we fit in with them and how we can help, before we analyse how they fit in with us and what we're selling.
If you're not sure what to create for your flagship content, start small and start specific. What's something one of your customers has been struggling with? What keeps coming up in your networking groups? What's the tiny little pain in the ass thing that you hated so much you figured out a way to fix it?
Don't try to solve all of the world's problems, just start with one little thing and bring to it everything you know about that exact thing.
Learn by doing

You have to learn what works by doing it, by trying things. Producing great content is a choice and that's because learning to do it well comes from doing it.
You can read all you like. You can study the best. You can emulate those who've gone before, and I would definitely suggest all of those, but most of all, you have to learn by *doing* it.
Do your best work, then take notice of how you can do it better. Take notice of what engages your audience. Take notice of what leaves them quiet.
Take notice and take action - neither of which can be achieved through theory alone. This kind of learning comes from getting out there and doing it and it's best way to both continually improve your content and engage your people.
Watch, listen and DO. Standing out is not about being louder, nor about being everywhere all the time. It's about getting better, improving every day. It's about doing and that means you have to start.
Get good at asking the right questions

I was reading a discussion in a content marketing group today about asking the right questions to produce the right content.
Rightly so, the thrust of the thread was all about questions like, 'What is the purpose of your content?', 'What action do you want people to take?', 'How does this piece fit in your sales funnel?' …
However, it struck me that no one asked, 'How do I want my audience to feel?'
The other questions are important, no doubt, but if you can't connect through a feeling first, subsequent actions are unlikely, and that's because humans feel first.
It's the feeling that an image, or a video, or a blog post conjure up that gets people's attention. It's the feeling that make them want to know more, that plants a seed of interest, which grows into familiarity, of brand recognition, aspiration and eventually, trust and loyalty.
If you're going to convey feeling, then you gotta feel it first. Trust your instinct, express yourself, talk about what you really care about and find images that match the way you feel. If you practice this, you'll find your authentic voice, your brand will come alive and you'll be standing out with authenticity, being super-visible to those who really matter.
The more feeling you can convey in your content, the more visibility you'll be creating for your brand … that's because people connect through their feelings and emotions. What you might think is the burning issue, the one you want to solve, might turn out to be not as much of an issue as the underlying cause, but you'll only discover that by trying and by asking.
Give them what they WANT
This can be more tricky than it sounds. All too often we focus on producing content that we know our audience needs or can benefit from, rather than what they actually want. That's because we're thinking from our place of having learnt the lessons and earnt the expertise. There's nothing wrong with that, it's just that if we can't say it or present it in a way that meets our people exactly where they are, then we'll miss the target.
You don't know what you don't know until you know it.
We actually need to be educated about what we need before we know we need it. And that's why jumping in with our expert solutions, as brilliant as they may be, can be met with crickets. Nada. Niente.
Listen first. Find and create ways and places to listen and learn. And when you understand where people are at and what they want, then and only then, can you give them what they need … all wrapped up and tied beautifully in what they want.
Make it all about THEM
This is relationships 101, right? How to win friends and influence people? Make it all about THEM.
And if you haven't picked up on this yet, I'm a firm believer that content is all about relationships.
The reason you're producing content is so that you can form relationships with people. Therefore, all of the same rules and best practices apply whether you're doing it online or having an in-real-life conversation with someone.
The problem with online content is that we're usually waaaay too aware that we're talking to people en masse … and people 'en masse' don't have names and faces. Kind of a generic blob, really.
But when you're talking to a generic blob, the actual names and faces that make up that blob can kind of tell, right? You know, content that's meh. Take it or leave it, remember it not.
Actually what people really want is content that's all about them. You know those things you read, or view, and could swear to god that person got in your head and made that thing especially for you. It's an awesome feeling and not something you can usually do by thinking of faceless blobs.
I challenge you to write, or record your next post thinking of one very specific person - talk to them, show them you understand, show them you've been listening. See how that goes and comment below. Do you already do this? How much better is your content when you have an actual person in mind?
Make yours better

If there's stuff out there that people love and want, then by all means, go in and get a piece of that. But! Make yours better. This is not rocket science, is it? If it's already out there and doing well, especially by several big-hitters, then you need to make yours better.
You know people want it and that it's popular, so that's a start, but make it stand out with more, better and YOU.
A good way to figure out how to do that, is to just ask yourself what's missing from what's already out there? How could it be better? What's the thing that would make this awesome? And, more often than not, that's just a great big slice of you.
Get to the point
This goes for your headline, the URL and the content itself. The clearer, more straightforward and to the point it is, the more easily people can understand it, remember it and share it.
If it's a guide or an infographic, make it easy to grasp at a glance - not too cluttered or complicated.
The same goes for an article or report - use headings to break it up logically and make sure it flows. You need to make sure it's as easy to read as possible, especially if it's an epic piece that goes into a lot of detail.
Link to more

Use links throughout your piece, where appropriate, to other work and resources that supports and augments this one. Think about the journey you want to lead your audience on and while flagship pieces should certainly stand alone in their depth and value, they also need give your audience somewhere to go.
Think about the information that precedes this piece, as well as what people what to know after they've absorbed this one. Don't just leave it at that - show them how it fits in, the steps before and the steps after. (You can read more here on how flagship content anchors your strategy).

Flagship content is a work in progress - it evolves

Don't let the need for perfection stop you from sharing your knowledge and getting something out there. I'm not for one minute suggesting that you should disregard quality altogether - I'm not, this is flagSHIP content after all, not flagSHIT content. However, don't think of it as something static that has to be perfect once and for all. Think of it as something that you'll add to and refine over time. Something that will increase in quality, value and usefulness as you learn more and more people engage with it.
The idea is to make it today to the best of your ability, but to add to it, tweak and refine it over time. This way, it stays current with ongoing evergreen appeal and allows you to promote revised editions without creating all-new content. So put the work in today, but with the mindset of creating something that will grow and evolve over time. Taking the first step is the only way you can get to the next step.
It won't be for everyone … and that's ok

Great content is subjective - not everyone is going to agree on whether the same piece of content is great or not, and that's fine. The important thing is that your audience thinks it's great, and they are not everyone.
Content that your audience thinks is great will be stuff that's useful (or educational), entertaining, or inspiring.
What's considered useful will depend on who you're talking to, as will entertaining and inspiring, but in broad terms, these are the that jobs great content does and why certain people really love certain stuff. In other words, why they find a connection with it.
And that's what you're after - a connection. Producing content, good content, is all about connection. Connection that forms the basis for relationships, which is why we're all in business anyway.
In conclusion

Go and give it a go - think about what you can make that your audience will love and which will really help them out with something. Show your passion and your personality because at the end of the day, people connect with people. Don't let perfection hold you back and know that this thing will evolve over time, as will you and your relationships.
At this point, after reading my own mammoth article, I'd also like to acknowledge and point you towards Chris Garrett's own mammoth article (book, actually) on how to create killer flagship content. You can find it at http://www.chrisg.com/ and I'm very confident you'll enjoy it - it's very good. Thanks for the inspiration, Chris.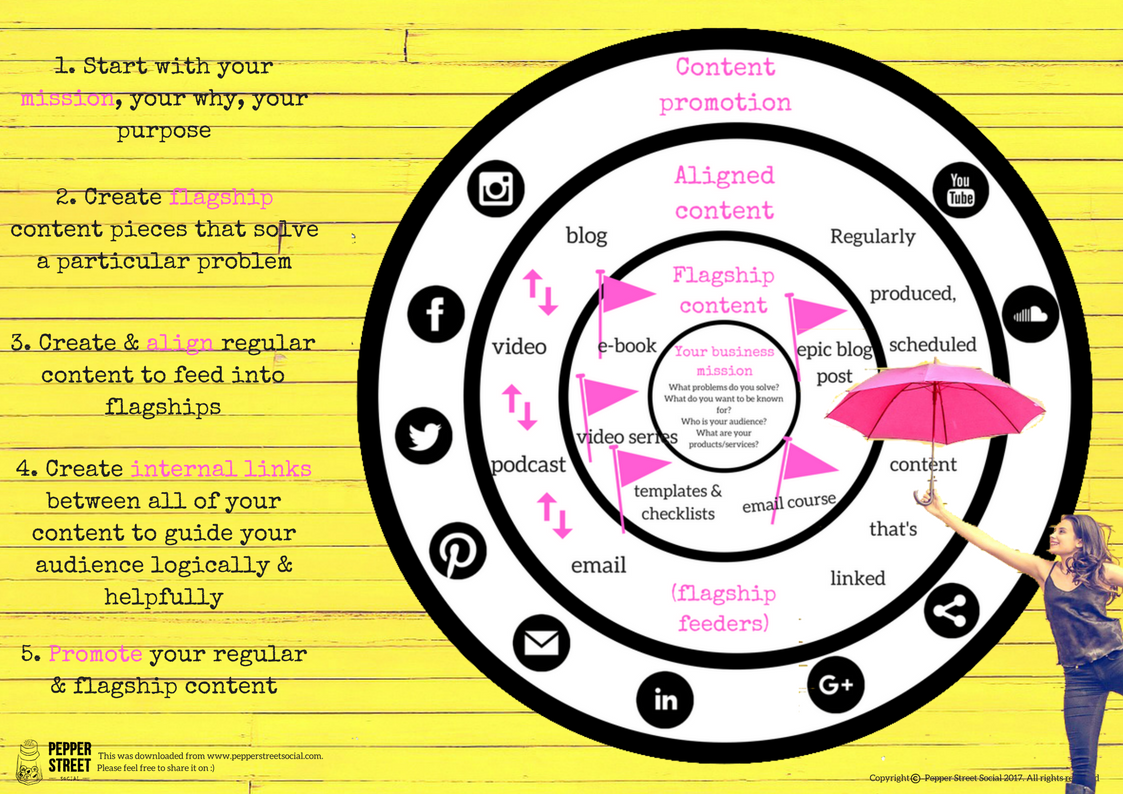 You can also download my flagship content framework right here. It's a simple visual PDF that shows how to start with your mission, create flagship pieces, align your other and link it all together to create that journey and experience for your audience. ... and it's kinda pretty so you can stick it up where you can see it when you're creating to keep you on track :)
If you're feeling daunted, or inspired (!) about how to get more visibility for your brand through your content strategy, it's ok - you know more than you think you do and it's really not rocket science after all, honestly.
Getting a grip on your content marketing is as easier with a collaborative community to support you, and it just so happens that I know one …